2018-19 Award Winner
Washtenaw ISD's Dr. Scott Menzel named 2018-19 Superintendent Communicator
Scott A. Menzel, PhD, Superintendent of Washtenaw ISD, was recently named the 2018-19 Michigan School Public Relations Association (MSPRA) Outstanding Superintendent Communicator of the Year. Dr. Menzel was surprised with the honor at the regular meeting of the WISD Board of Education in August.
In presenting the award, Gerri Allen, MSPRA's Executive Director, explained that recipients must be current superintendents who value internal communication within their organization, as well as externally at the local, state and national level. Additionally, they must demonstrate excellent personal communication skills including ethics, honesty, openness and good listening.
MSPRA specifically recognized Dr. Menzel for being "an exceptional electronic and public communicator" who is often requested as a speaker for a variety of education-related topics, particularly regarding equity in education. He is also known as a proponent of progressive and inclusive communication styles, and utilizes a variety of communication platforms to ensure staff and stakeholders have consistent access to the WISD, even beyond standard work hours.
"I am honored to receive this award from MSPRA, which recognizes the importance of transparent communication within education," said Dr. Menzel. "This award reflects the hard work of the WISD team to ensure we maintain ongoing two-way communication using a variety of tools to ensure equitable access and opportunities in support of public education."
Congratulations, Dr. Scott Menzel and the WISD team!
Michelle Ready Receives 2017 Gerri Allen School Communicator Award
Michelle Ready, Director of Communications and Integrated Marketing for Ottawa Area Intermediate School District (OAISD), has been named the "2017 Gerri Allen Communicator of the Year" by the Michigan School Public Relations Association (MSPRA). She is the first recipient of the new recognition that showcases a school communicator's abilities in planning, practice, leadership and service.
Ready received the surprise award at the October OAISD Board meeting. In nominating her for the honor, OAISD Superintendent Peter Haines said, "Michelle's professionalism, optimism, dedication and overall public relations skills have helped shape the extraordinary reputation for educational leadership that OAISD has today."
Noting her more than 20 years of demonstrated outstanding work, service and leadership in school communication, MSPRA Board Member Tom Scheidel said he was "pleased to present Michelle Ready with the much-deserved award on behalf of MSPRA."
The Gerri Allen Outstanding School Communicator Award annually recognizes a practicing Public Relations professional in a public school, district, educational agency, service center, or intermediate unit for outstanding leadership in school public relations and communications.
This provide a platforms for working PR professionals and members of the school community to recognize leaders in the school PR field and thank them for their service of advancing education through responsible communication. The Outstanding School Communicator Form and accompanying materials are due each spring. The winner and nominator will be recognized at the annual MSPRA conference. Help us recognize those who share what is right about public education by nominating a school PR professional.
2018-19 Superintendent Communicator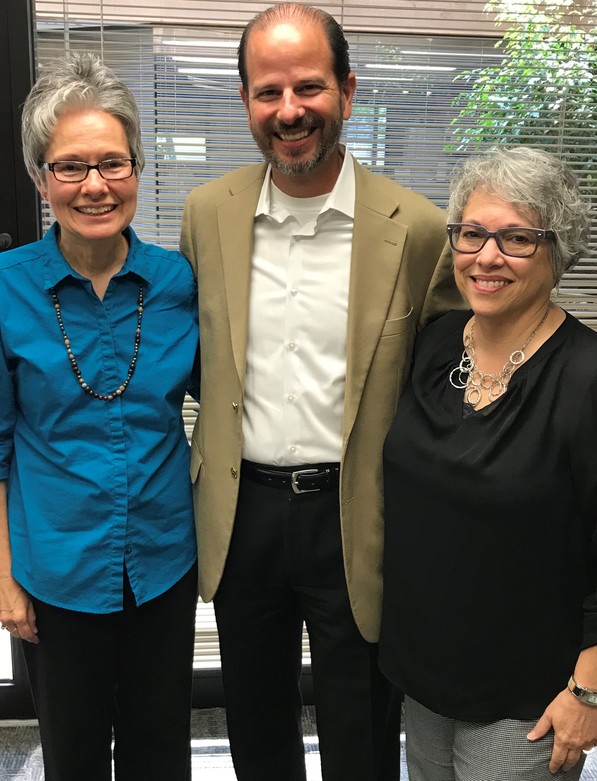 Dr. Scott Menzel, center, received the 2018-19 Superintendent of the Year Award from MSPRA Executive Director Gerri Allen (left). He was nominated by WISD Communication Specialist Emma Jackson (right).
2017-18 School Communicator of the Year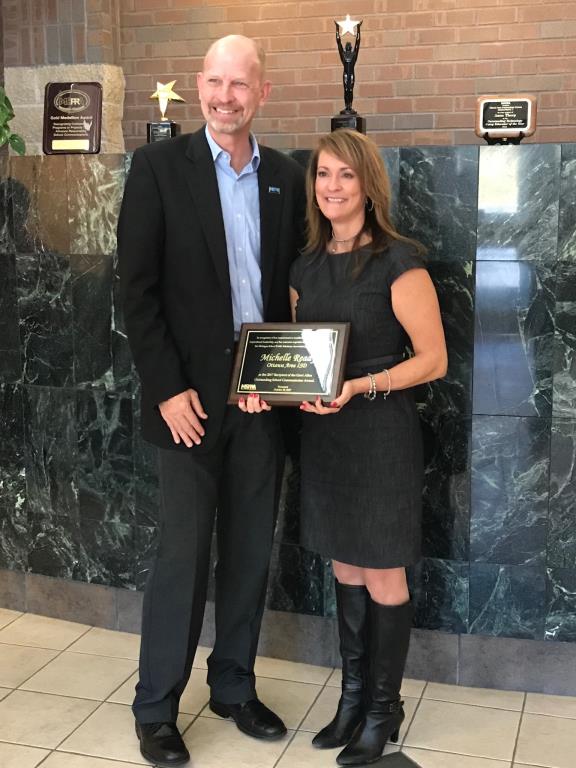 Michelle Ready, Ottawa Area ISD, receives the 2017 Gerri Allen School Communicator of the Year Award from MSPRA and NSPRA Board Member Tom Scheidel.
Communication Contest Award History
Additional Opportunities
The National School Public Relations Association (NSPRA) also offers communication awards.