Award Winners
Rochester Schools' Dr. Robert Shaner named 2019-20 Superintendent Communicator
Rochester Community Schools' Superintendent Robert Shaner has earned the Superintendent Communicator of the Year award from the Michigan School Public Relations Association (MSPRA).
"I am truly honored," said Shaner. "We take great pride in building relationships and engaging with our community through open, transparent and respectful communication."
Judy Evola, director of community relations and marketing with Walled Lake Schools and the MSPRA awards chairperson presented the award at a Rochester Board of Education meeting.
"Being transparent, visible and proactive are Dr. Shaner's communication hallmarks." said Evola. "I realize this is on the heels of Dr. Shaner receiving the Michigan Superintendent of the Year award from the Michigan Association of Superintendents and Administrators (MASA)."
When presenting the honor, Evola talked about how Dr. Shaner exceeded the five criteria for the award. The selection criteria included demonstrating the value of a year-round, ongoing communication program, investing in communication tools, strategically working with district communication professionals, practicing communication management techniques, and demonstrating excellent personal communication skills such as ethics, honesty, openness and good listening skills.
"Dr. Shaner is a strong advocate for public education, and he purposefully engages in dialogue with members of the business community and local, state, and national leaders. By strategically utilizing all available resources, to include face-to-face, phone, and email communication, along with print, broadcast, and social media, Dr. Shaner effectively connects with all community stakeholders," said Evola.
Congratulations, Dr. Shaner and the Rochester team!
Each year a superintendent is honored for his or her communication leadership. To learn more, check out the application form.
Keely Baribeau, Receives 2019 Gerri Allen School Communicator Award
Keely Baribeau, communications director at Port Huron Schools, is the "2019 Gerri Allen Outstanding School Communicator" as named by the Michigan School Public Relations Association (MSPRA).
She was nominated for the honor by her superintendent, Jamie Cain. Superintendent Cain told the group, "If you are truly looking for someone who embodies 'outstanding leadership in advancing education through responsible strategic communication,' I can think of no one more qualified."
Superintendent Cain noted that the Baribeau's job includes such tasks as:
Creating an atmosphere of honesty and transparency with district stakeholders.
Establishing ongoing, consistent communication with staff, parents, and the community.
Building the image of Port Huron Schools as a "destination district."
Cementing community partnerships.
He added, "Ms. Baribeau has demonstrated her ability to excel in this position and to continually strive for improvement in her role with building the district's visibility, reputation and prestige."
Karen Heath, MSPRA president and supervisor of communications at Berrien RESA, said of Baribeau, "Keely understands that Port Huron Schools is a vital part of the local community. She does an excellent job of nurturing relationships, providing strategic communication support, and telling the many good stories that are part of Port Huron Schools."
Baribeau was presented the award by Garth Kriewall, an MSPRA board member and former Port Huron Schools trustee. The award is named after Gerri Allen, a longtime school communicator with the Washtenaw Intermediate School District who, after retiring from that position, now serves as the executive director of MSPRA.
Gold Medallion Award
The Rochester Community Schools "RCS Stakeholders Are Safe, Valued and Respected" initiative has received a 2019 Michigan School Public Relations Association's (MSPRA) Gold Medallion Award. Congratulations to Lori Grein, Rochester Community Schools executive director of strategic communications and the RCS communication team.
The Program's Overall Objective is to: Develop a comprehensive, year-round communications program to promote the ways the Rochester school environment allows all members of the RCS community to feel safe, valued and respected, as outlined in the RCS Respect Code. Related communication seeks to assure RCS families that the schools value and care about students' well-being—and that the schools are advancing a culture of care, inclusion and understanding.
MSPRA's Gold Medallion Award recognizes outstanding programs or projects that advance education through responsible communication. MSPRA's panel of experts judged the entry on the clarity of concept, good writing and evidence of using the four-step Public Relations process known as RPIE: Research, Planning, Implementation and Evaluation.
We look forward to celebrating Rochester Schools' efforts at MSPRA's Annual Conference in March 2020.
NSPRA's Learning and Liberty Legacy Leaders
Diane Bauman, APR, Director of School/Community Relations for Farmington Public Schools and Micki O'Neil, MBA, Director of Public Relations and Communications for Ingham ISD, have both received the National School Public Relations Association's (NSPRA) Learning and Liberty Legacy Leader Award. The award recognizes the many contributions of NSPRA members who have had a positive impact on their colleagues' careers and who work tirelessly behind the scenes on behalf of education and improved communication. Their honor was publicly announced, along with one other Learning and Liberty Legacy Leader, at the 2018 NSPRA Annual Seminar in Anaheim, CA.
Diane was honored for her public relations' knowledge and skills as well as for the wise counsel she offers colleagues. Through her work at Farmington, Plymouth-Canton, and Pontiac schools, and in conjunction with her 23 years of service on the MSPRA Board—which concluded at the end of August—Diane has positively impacted students, schools, and school PR professionals throughout Michigan.
Micki was recognized for being "a highly-respected public relations professional—valued not only for her public relations knowledge and skills but also for the business perspective she brings to any discussion." She has been impacting Michigan students, schools, and school communicators as a valued member of MSPRA and its Board--serving from the fall of 2011 until stepping down in the spring of 2018.
Both Micki and Diane have been and continue to be popular presenters at conferences both for MSPRA and other state associations, enthusiastically sharing their public relations knowledge and expertise.
Congratulations, Micki and Diane, for being true Learning and Liberty Legacy Leaders.
2019-20 Superintendent Communicator of the Year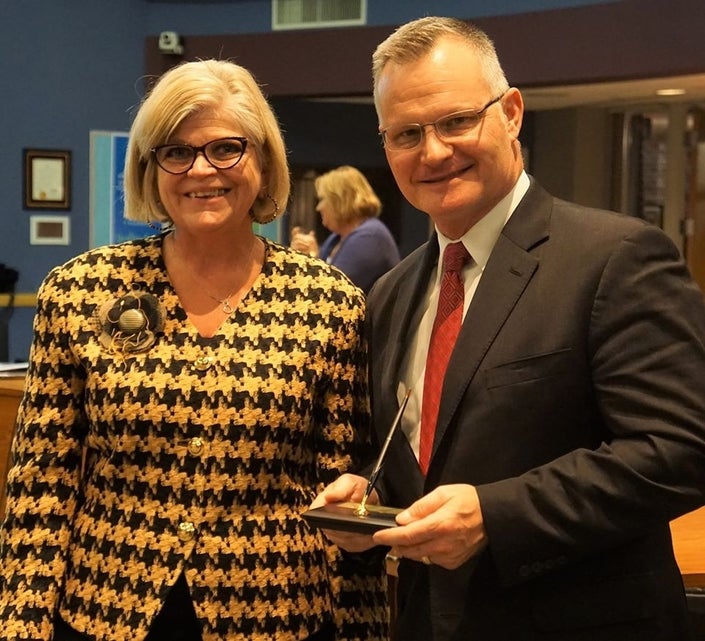 Dr. Robert Shaner, Superintendent Rochester Community Schools (right) received the 2019-20 Superintendent of the Year Award from MSPRA awards chair Judy Evola, APR.. He was nominated by Lori Grein, Rochester School's executive director of strategic communications.
2019-20 School Communicator of the Year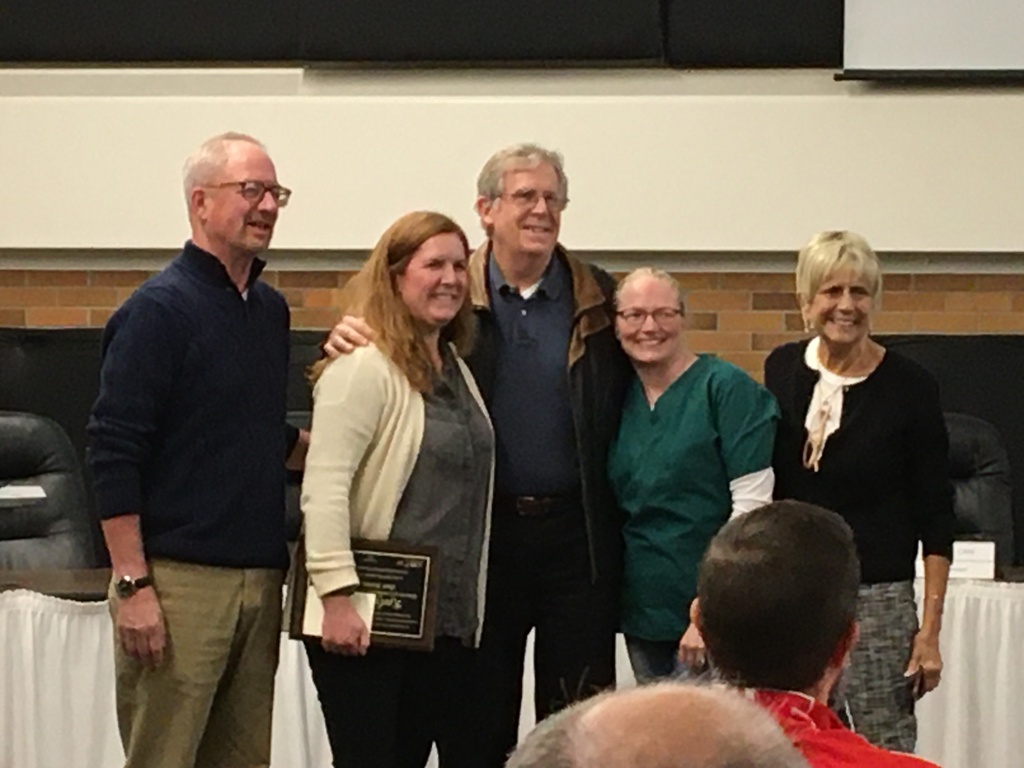 Keely Baribeau, community relations/marketing director of Port Huron Schools (second from left) received the 2019 Gerri Allen School Communicator of the Year Award from MSPRA board member and former Port Huron Schools trustee Garth Kriewall (left). Also pictured: Keely's father, Dr. Doug Baribeau, sister Kacey Woodward and mother Mary Kay Baribeau.
Communication Contest Award History
Additional Opportunities
The National School Public Relations Association (NSPRA) also offers communication awards.
NSPRA's Learning and
Liberty Legacy Leaders

Diane Bauman, APR

Micki O'Neil, MBA