2018-19 Award Winners
Washtenaw ISD's Dr. Scott Menzel named 2018-19 Superintendent Communicator
Scott A. Menzel, PhD, Superintendent of Washtenaw ISD, was recently named the 2018-19 Michigan School Public Relations Association (MSPRA) Outstanding Superintendent Communicator of the Year. Dr. Menzel was surprised with the honor at the regular meeting of the WISD Board of Education in August.
In presenting the award, Gerri Allen, MSPRA's Executive Director, explained that recipients must be current superintendents who value internal communication within their organization, as well as externally at the local, state and national level. Additionally, they must demonstrate excellent personal communication skills including ethics, honesty, openness and good listening.
MSPRA specifically recognized Dr. Menzel for being "an exceptional electronic and public communicator" who is often requested as a speaker for a variety of education-related topics, particularly regarding equity in education. He is also known as a proponent of progressive and inclusive communication styles, and utilizes a variety of communication platforms to ensure staff and stakeholders have consistent access to the WISD, even beyond standard work hours.
"I am honored to receive this award from MSPRA, which recognizes the importance of transparent communication within education," said Dr. Menzel. "This award reflects the hard work of the WISD team to ensure we maintain ongoing two-way communication using a variety of tools to ensure equitable access and opportunities in support of public education."
Congratulations, Dr. Scott Menzel and the WISD team!
Each year a superintendent is honored for his or her communication leadership. To learn more, check out the application form.
Diane Bauman, APR, Receives 2018 Gerri Allen School Communicator Award
Diane Bauman, APR, Director of School/Community Relations for Farmington Public Schools (FPS), has been named the "2018 Gerri Allen Outstanding School Communicator" by the Michigan School Public Relations Association (MSPRA). Bauman received the surprise award, recognizing her communication abilities in planning, practice, leadership and service at the October 2, 2018, Farmington Public Schools' Board of Education meeting.

In nominating Bauman for the honor, Superintendent George C. Heitsch, wrote: "...When I became the Farmington superintendent in 2014, I quickly recognized the valuable leadership and expertise Diane provides for all public relations, communications and community issues impacting our District….She is a key member of my Cabinet, and we have come to count on her to ensure that our plans and decisions are communicated to stakeholders clearly, thoroughly, and in a timely fashion."

In presenting the award, MSPRA President-elect Anne Cron, APR, said. "I am pleased to present Diane with this much-deserved award. She has not only provided outstanding communication at FPS, her impact has included many years with the Oakland County Schools' Public Relations Association (OCSPRA), and at the state level with 23 years of service on the MSPRA Board."

Upon receiving the award, Bauman said, "I am overwhelmed with this honor... I am grateful to work with such incredibly talented and passionate people who strive each day to make the school district and our broader community the best it can be."

"I am also extremely proud of the work that MSPRA does to support communication professionals working in education and of my FPS School/Community Relations team members who go above and beyond the call of duty each and every day!"
The award annually recognizes a practicing Public Relations professional in a public school, district, educational agency, service center, or intermediate unit. The winner and nominator will be recognized at the annual MSPRA conference. The nomination form and accompanying materials are due each spring.

2018-19 Superintendent Communicator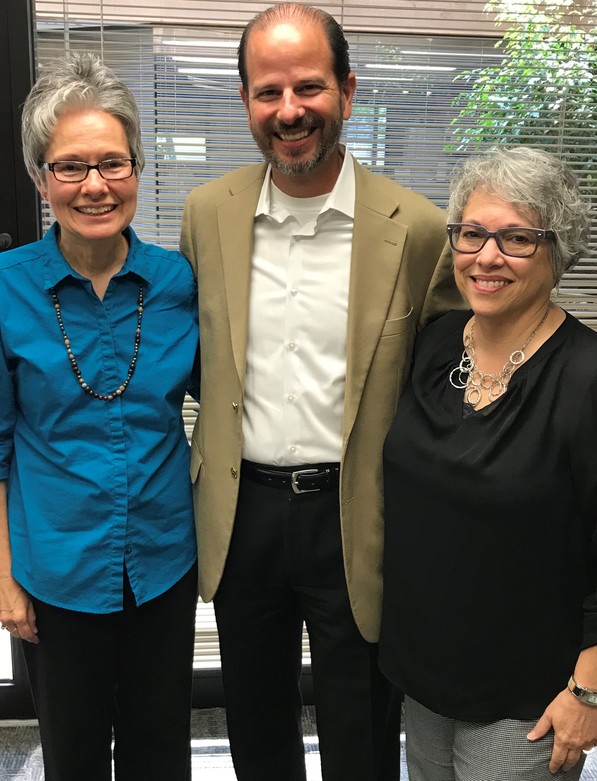 Dr. Scott Menzel, Washtenaw Intermediate School District Superintendent (center) received the 2018-19 Superintendent of the Year Award from MSPRA Executive Director Gerri Allen (left). He was nominated by WISD Communication Specialist Emma Jackson (right).
2018-19 School Communicator of the Year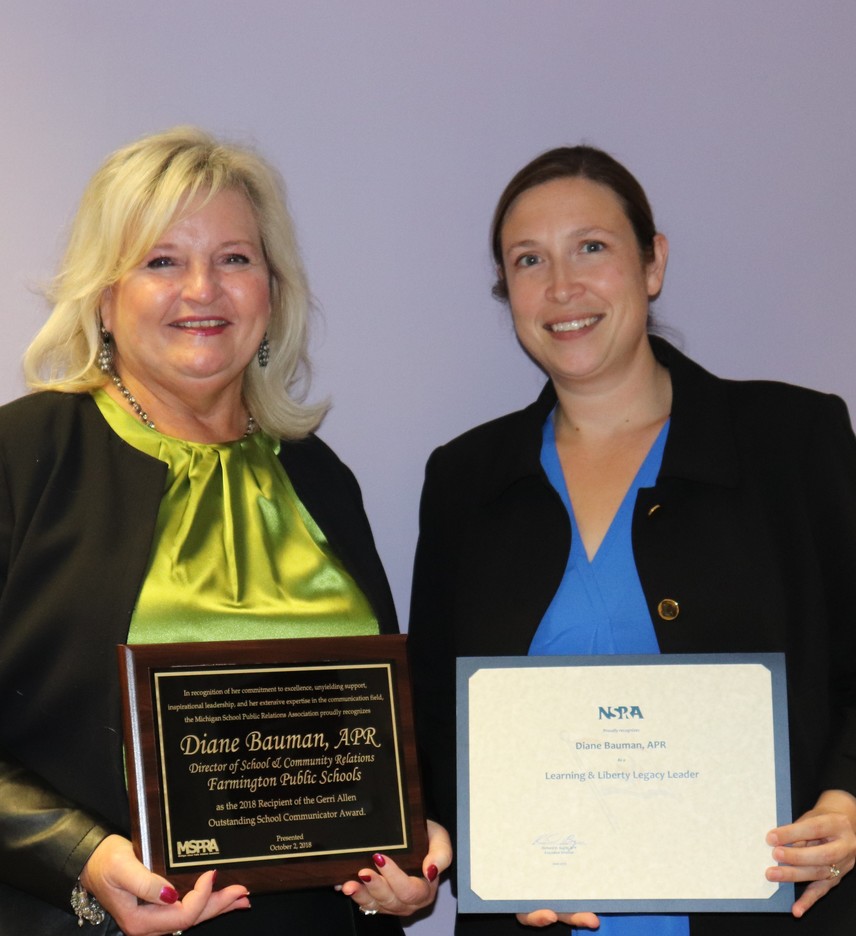 Diane Bauman, APR, Farmington Public Schools, (left) received the 2018 Gerri Allen School Communicator of the Year Award from MSPRA President-elect Anne Cron, APR.
Communication Contest Award History
Additional Opportunities
The National School Public Relations Association (NSPRA) also offers communication awards.