Michigan School Public Relation Association
If you're responsible for communicating with students, staff, parents and local residents
about your school, you need MSPRA – even if "communication" is not part of your job title.
MSPRA celebrates 60 years as a chapter of the National School Public Relations Association!
News & Announcements
01/15/2020
Conference Keynote: "Happiness Advantage"
At the 20/20 MSPRA Annual Conference, team members from Genesee Intermediate School District (GISD) will share key points from"The Happiness Advantage."  Based on research by Harvard positive psychology expert and New York Times bestselling author, Shawn Achor, "The Happiness Advantage" shows how being positive results in more resilient, adaptable, and successful people and organizations. The conference will also feature breakout and skill sessions on key topics geared for both the new School PR Professional as well as the seasoned School PR Pro. 
See events page for more details.  Registration is now open.
October 11, 2019
60th Anniversary Greeting from NSPRA
06/11/2019
MSPRA is an Exemplary Chapter
MSPRA has been named an Exemplary Chapter of the National School Public Relations Association (NSPRA) for the 10th year in a row! Only six NSPRA chapters were so honored this year. The recognition is a wonderful birthday gift as our members continue to celebrate our 60th Anniversary. This achievement is the result of winning two Mark of Distinction Awards, one for Professional Development and one for Collaboration. Michigan is the only chapter to receive two awards. MSPRA leaders will receive the awards at NSPRA's Annual Seminar in Washington, D.C. in July.
Calendar
Upcoming Events
MSPRA 2020 Annual Conference

Location:

H Hotel, MIdland, Michigan

Spring Drive-In Conference
Anniversary Spotlights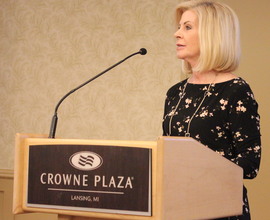 60th Anniversary
"We appreciate MSPRA's selfless partnership with other school leaders and agencies, including the Michigan Department of Education, to impove school communication throughout the state." Sheila A. Alles, Interim State Superintendent Casandra E. Ulbrich, President, State Board of Education