Michigan School Public Relation Association
If you're responsible for communicating with students, staff, parents and local residents
about your school, you need MSPRA – even if "communication" is not part of your job title.
MSPRA celebrates 60 years as a chapter of the National School Public Relations Association!
News & Announcements
October 11, 2019
60th Anniversary Greeting from NSPRA
06/11/2019
MSPRA is an Exemplary Chapter
MSPRA has been named an Exemplary Chapter of the National School Public Relations Association (NSPRA) for the 10th year in a row! Only six NSPRA chapters were so honored this year. The recognition is a wonderful birthday gift as our members continue to celebrate our 60th Anniversary. This achievement is the result of winning two Mark of Distinction Awards, one for Professional Development and one for Collaboration. Michigan is the only chapter to receive two awards. MSPRA leaders will receive the awards at NSPRA's Annual Seminar in Washington, D.C. in July.
Calendar
Calendar

‹

May

2020

›

S
M
T
W
T
F
S
1
2
3
4
5
6
7

May 7

Celebrating End-of-the-Year Traditions
in a Non-traditional Time

Join us live on Thursday, May 7, 2020 from Noon-1 p.m. for MSPRA's Inaugural "Idea Hour" when we'll discover our best thinking on: "Celebrating End-of-the-Year Traditions" in a non-traditional time.

MSPRA President Karen Heath will moderate this free, virtual, interactive meet up with multiple segments, featuring PR colleagues who will offer ideas on topics such as:

Graduation/Honoring seniors

Marking student transitions (Kindergarten, 5th grade, 8th grade)

Student Awards

Honoring staff (annual service awards, staff appreciation)

Retirements

Followed by guided discussion. So, come ready to share.

Registration is open until 11 a.m. on Thursday, May 7, 2020.
Access information will be sent after you register. We hope to "see you" there.

This no-fee MSPRA "Idea Hour" is made possible, in part, by our 2019-2020 investment partners:
Blackboard, Intrado/School Messenger, Peachjar, Foxbright, and Finalsite.

8
9
10
11
12
13
14
15
16
17
18
19
20
21
22
23
24
25
26
27
28
29
30
31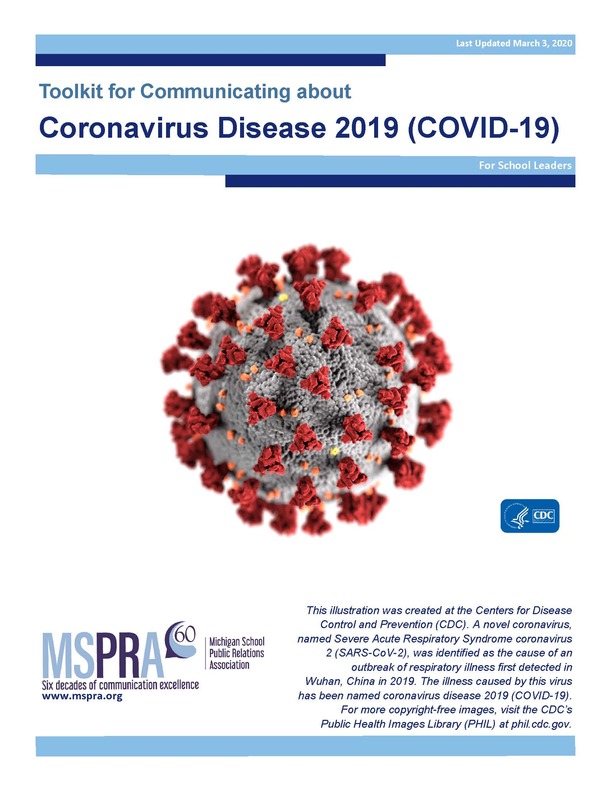 This toolkit highlights some of the ways school districts may choose to communicate about Coronavirus Disease 2019 (COVID-19). Remember, this is a public health issue. Please to direct questions or inquiries about COVID-19 to your local health department.